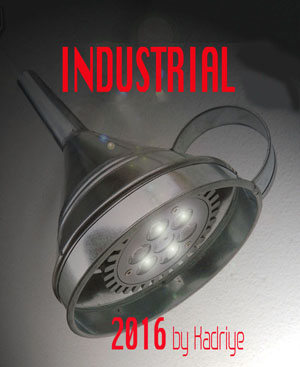 Official Press Release 19/02/16
Millions of Color Represents The New Green Lighting Collection!
"Industrial"
Industrial Collection is influenced by Industrial Age (Revolution) period of mid 19th and beginning of 20th Centuries.
Industrial Age also called "Revolution" because it contains so many developments that made major changes in production methods and also in economic and social dynamics.
Nowadays we celebrate the Fourth Industrial Revolution as took major subject of Davos Economical Forum 2016.
Designer Kadriye explains the major motivation of the collection was Industrial Revolution because: 'I wanted to use technology in conventional design form.' She says. 'No matter how far the technology goes, human being always will be in need to keep in touch with conventional design1 forms.'
Industrial Collection is environmental friendly. All the green production and energy saving levels meets the requirements of the green product.
Saves %70 of Energy by LED technology.
Industrial Collection only available worldwide in the Millions of Color®'s website by order.
For questions, comments, more information and Press Inquiries Please Contact at
Designer: Kadriye
Design: 2014 Production Date: December 2015 Millions of Color®
Official Press Release By Millions of Color® All Rights Reserved. Millions of Color Press is the only distributer of the content by authorized publishers only. Publishing, reproducing or copy the content without authorizing will be the subject to infraction of intellectual copyrights by related courts.